Self-examination should happen all of the time. We should constantly monitor where we've been, where we are, and where we're going.
But most people don't operate like that. We're so focused on the next thing that we fail to stop and appreciate the last thing.
For me personally, I am always reflecting.
I journal every day. I write for you guys every day. I take long walks without headphones and I frequently stare off into the distance, a space that allows the freedom to roam every corner of my mind.
And as the end of the year approaches, I think it's appropriate to do one final reflection of 2021, a year that I consider to be the best I've ever had.
It was a year of immense learning, exploration, depression, creativity, expression, curiosity, happiness, gratitude, love, friendship, and new experiences.
The ups and the downs. The intense highs and the low lows.
I've loved it all.
As always, it's about the journey. It's about the process. It's about getting better every day. It's about throwing shit at a wall and seeing what sticks. It's about making mistakes and learning from them.
The following is a list of all my accomplishments of 2021. I'm not posting this to brag, but to show you how much is possible to accomplish in a year.
In December 2020, I was broken.
My job at ESPN sucked. The life I'd spent the last three years creating was about to get blown up. I was moving in a month, but I didn't know where to go.
But I let none of that deter me. I took matters into my own hands and ended up creating a life that is far better than anything I'd ever imagined possible for myself.
So if you're not happy with your life right now, I want you to know that you have the power to make it infinitely better by December 2022.
I really hope that you join me in creating your own list as well. If you do, please share it with me because I'd LOVE to see it.
Jan. 2021
Had a conversation with a friend about my future, a conversation that gave me the courage to blow everything up and leave CT

Sold a lot of my stuff and left CT on Jan. 23
Feb. 2021
Quit my job at ESPN

Lived in Boston alongside my best friend while I figured my shit out

Started my podcast business, with my first client being one of the best YouTubers in sports media
Mar. 2021
Finally moved to Colorado, a dream I've had for years

Started working for Religion of Sports, Tom Brady's production company
Explored Denver by foot, bike, and public transit

Spent an entire day in Fort Collins
Apr. 2021
Biked the 40-mile Cherry Creek Trail

Visited the Denver Art Museum

Spent a weekend in Colorado Springs, visiting Garden of the Gods and other cool landmarks like the U.S. Olympic Training Center

Two hikes in Colorado Springs

Did a deep dive into the world of cryptocurrency and NFTs

Purchased Ethereum

Started working for BlueWire, a top sports podcasting company
May 2021
Made my first NFT purchase

Received second dose of COVID vaccine

Spent a full day in Boulder

Visited my dad in Mesa, AZ for two weeks

Went to the Grand Canyon with my dad

Spent a day in Flagstaff, AZ

Attended a Diamondbacks game

Explored Arizona State's campus

Hiked in Mesa, AZ (pictured above)

Hiked in Sedona, AZ

Visited the last standing Blockbuster in Bend, OR

Two hikes in the Cascade Mountains

Visited perhaps my favorite coffee shop ever (Sisters Coffee in Sisters, OR)
June 2021
Had the time of my life at a dear friend's wedding (pictured above)

Visited Laguna Beach

Spent a day in San Diego, and got together with an old friend

Went camping for the first time

9-mile hike in New Hampshire's White Mountains

Started producing a podcast for a former UFC champion
July 2021
Re-taught myself the basics of video editing

Learned some basics of social media promotion

Ran into one of my favorite musicians at a restaurant in upstate NY (pictured above)

Spent a weekend in New York City, visiting friends in Manhattan, Long Island, Queens, and Brooklyn. It was the first time I'd ever really ventured outside of Manhattan
August 2021
Reconnected with some of my best friends and had a great time at an engagement party

Spent a weekend in a van in the Catskills #VanLife (pictured above)

Hiked in the Catskills

Helped a friend land a job

Began training for a half-marathon
September 2021
Started weekly yoga classes with an amazing instructor

Hired employees for my business

Started producing a podcast for another prominent YouTuber

Purchased Solana

Several more NFT purchases

Got together with three of my favorite people in the world in Boston

Began working on Spotify Greenroom, Spotify's live audio app (download it today plz thx)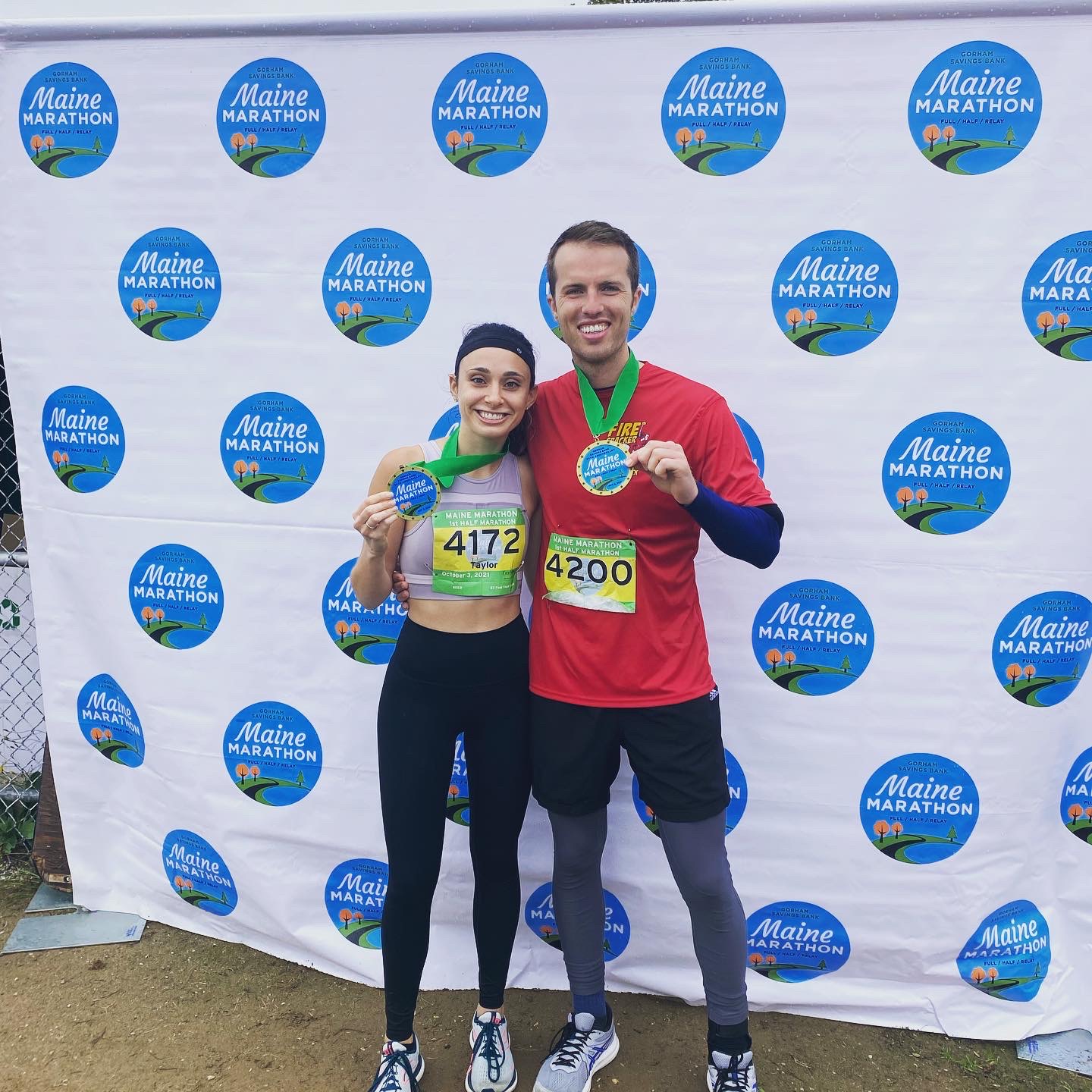 October 2021
Completed a half-marathon in Portland, ME alongside one of my best friends

Started kickboxing training

Started playing weekly adult league volleyball

Started my job working for The Ringer/Spotify

Won a lottery in NFTs

Attended Maggie Lindemann concert in Boston

A weekend in Cape Cod with family (pictured above)

A great trip to the old stomping grounds in CT to spend Halloweekend with my friends
November 2021
A wonderful weekend in New York City with some of my closest friends (UFC 268, the NYC Marathon, my first Brooklyn rooftop bar experience)

Started producing a podcast for one of my former ESPN hosts at The Ringer

Met a new friend in line at a coffee shop

Learned a new approach to editing podcasts
December 2021
This has been a light month for me, but in this space I'll say that I've attended 20-30 breweries and 30-40 coffee shops, read 10 books, released 77 episodes of The Troy Farkas Show, and published 90 blogs. I've also completed two personal handwritten journals

And for the podcast business I built? It became a six-figure business within six months
While it's been an amazing year for me, I still have so many things to work on in 2022. More to come on that tomorrow :)